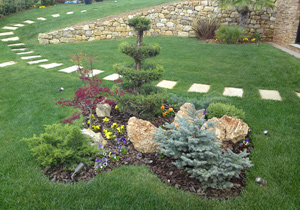 Design - Construction - Maintenance
Landscape Architecture:
Complete study and planning of your surrounding ground..
more ...
Lawn:
Whether you choose semination or a premade lawn, the result is ..
more ...
Automatic Irrigation:
Complete irrigation studies for the best green result with the ..
more ...
Combinations:
Full of colour and scent for a garden like a fairy tale ..
more ...
Dry Stone Walls:
So that gradients are no obstacle to the functionality and usability of your garden ..
more ...
Stone Constructions:
Because nature does not consist only of green spaces, walkways, paths, small bridges, fountains, nests ..
more ...
Green Terrace Room:
So that the garden is not a privilege only of one family houses ..
more ...
Patio:
From the tin with the lemon tree to the pot with the magnolia, colour and scent suits to every patio ..
more ...
Vertical Garden:
A sun-clad.place, tropical plants, indoor fountains and a small tropical ..
more ...
Maintenance:
Η συντήρηση κήπων δυστυχώς ακόμη και στις μέρες μας είναι στενά συνυφασμένη με τη λέξη κηπουρός. Μέγιστο λάθος διότι η συντήρηση κήπων δεν είναι μόνο κούρεμα και κλάδεμα, αλλά ..
more ...